Sweet lolita is the most popular lolita style; the accent is put on a cute and girly look. The other lolita styles available are gothic and classic. Sweet lolita dresses have pastel colors, bows and some have themed design. The most common themes for an adorable lolita costume are related to desserts, strawberries, fantasy elements, flowers, and animals such as rabbits, bears. The primary colors used for sweet lolita are monochrome with a touch of pink, baby blue, and other pastels. Let's find out more about some unique and adorable dresses in this style.
The light blue sweet lolita dress
, also known as Alice in Wonderland model, features a beautiful style. It is made of baby blue and white thin cotton material and features adorable bows in the neck area and in the waist. The dress has numerous ruffles on the peter pan collar area, and at the bottom that adds a special note and makes it unique. This sweet lolita dress will look elegant and cute. You cannot go wrong choosing this dress when you desire a particular outfit, with a stylish and yet adorable style.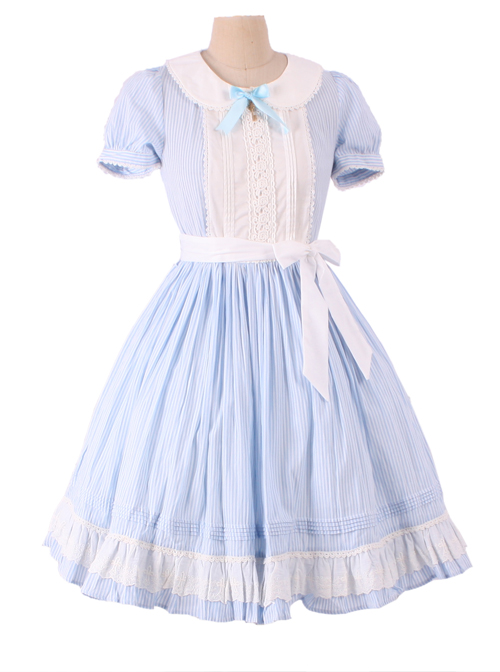 Marine Princess Sweet Lolita dress
will make you stand out of the crowd and make a statement. It has an elegant, over the edge style. It is made of quality chiffon and features colors like green, blue, and white, due to its marine theme. All this makes you feel about the beautiful ocean and its beautiful colors. The chiffon creates a flowy effect as it gently touches your skin. As any sweet lolita dress, the style of the dress is a baby doll, with the accent on your waist. Under the waist, the dress has two layers, which will add volume and make a unique effect when you walk or dance. The marine theme is continued in the upper side of the dress, where it features a spectacular gold marine star, which adds a beautiful contrast to the other colors of the dress. In the lower part of the dress is featured a wave design, with blueprints, which charmingly completes the marine theme. This dress is ideal if you want your outfit to be a showstopper. It will make you feel comfortable due to the gentle touch of its material, chiffon and will create a unique effect. Wear this dress, and you will make waves.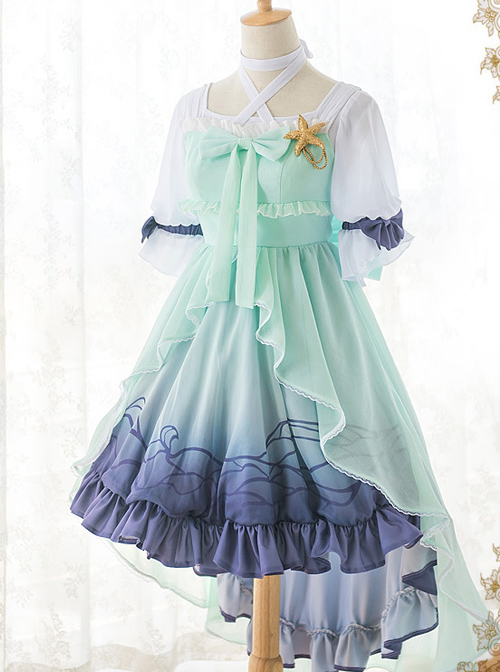 Chocolate strawberry lolita dress
is a stunning and merely delicious model. This dress features dessert elements, red strawberries, and chocolate, on a white background. It is made with polyester, and the design is truly amazing, providing you a cute, adorable lolita look. The design is a baby doll, with a bow placed in the waistline and ruffles on the sleeves and the collar. It is a sweet dress that will provide you an elegant yet adorable look.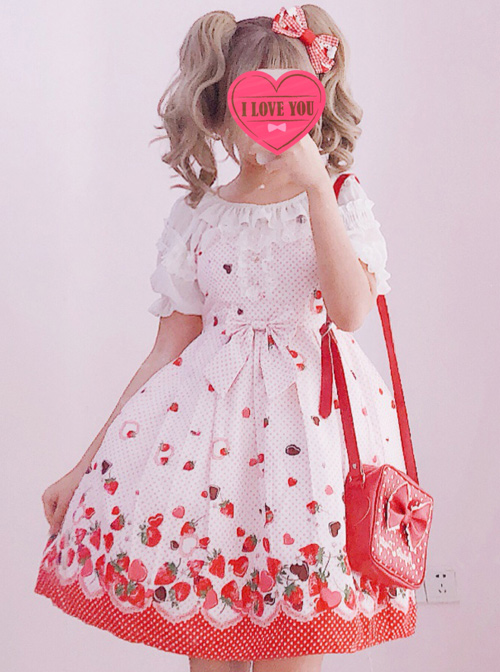 You can choose from a various range of sweet lolita dresses that will make your appearance unforgettable and make you feel excellent.
But a sweet lolita dress must be completed with the right accessories. Sweet lolita dresses are defined by bows, ruffles, lace, and other elements that add that unique touch.
For example,
autumn and winter pink cute bowknot sweet lolita dress
feature bold bows and lace. They provide a unique effect. The bows are present in the upper part of the dress, as a central piece, and on each part of the skirt for an outstanding effect, also on the back. The primary bow in the front is finished with crystals for an exquisite result, which adds a glamorous touch. The blouse is made with lace and provides an elegant effect that completes this dress.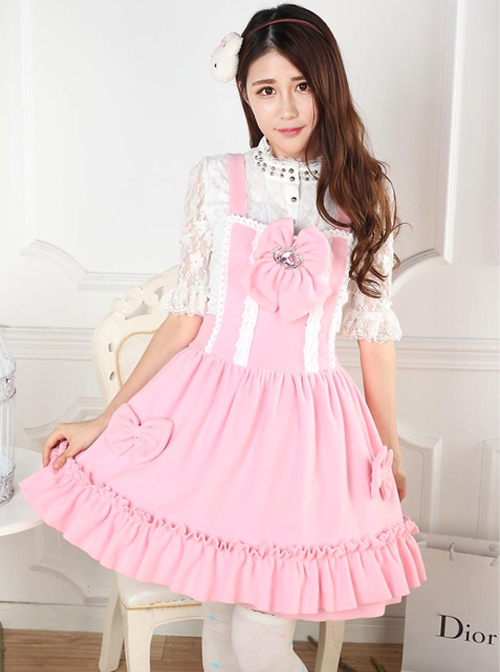 Because we are talking about breathtaking sweet lolita dresses, we cannot miss the chandelier Alice Girl lolita dress. It is a stunning creation made with exquisite jacquard fabric. The upper side is corset-like, with a velvet bow in the waistline and with an elegant cameo brooch in the center. The skirt has volume and ruffles, making a bell shape. Wearing this dress, you will have a beautiful and stunning look, bold and elegant. It is a statement lolita dress that will catch all the attention and make you feel special and unique.
You can complete the sweet lolita dress with adorable accessories, such as bow ties or headbands, hats, or mini hats in your hair, bow themed purse, in the colors of your dress. A popular choice is also a colored wig that will match your dress. Regarding your hairstyle, the most frequently used are pigtails or curls.
When you are wearing a lolita style dress, makeup must also be spectacular. You must use pastel or neutral colors that go well with the dress you have chosen. For obtaining a glamorous overall look, you can add some sparkle in the corner of your eyes. You must apply also blush for getting that sweet look. You can also add eyelash extensions that are not too long. The color of your lipstick can be decided by one of the colors on the dress for a more dramatic effect. The effect will be amazing and will complete very well your lolita style outfit. It will be a perfect choice for your student party, and you will stand out from the crowd.
A sweet lolita outfit is an elegant yet cute statement. The design has delightful aspects, and due to the materials used, the pretty elements such as lace, bows, and ruffles, and the baby doll style, it is a popular choice for parties.
You can quickly adopt a right sweet lolita style and get
lolita fashion
if you pay attention to details. Choose your dress first and then complete your outfit with outstanding accessories that will complement your lolita look. The makeup and hair are also important, so you can take into consideration our advice for achieving an exceptional lolita outfit. Sweet lolita is a popular choice and you cannot go wrong if you accessorize it right. Wear proudly your sweet lolita dress at student parties or other events and the result will be fantastic.